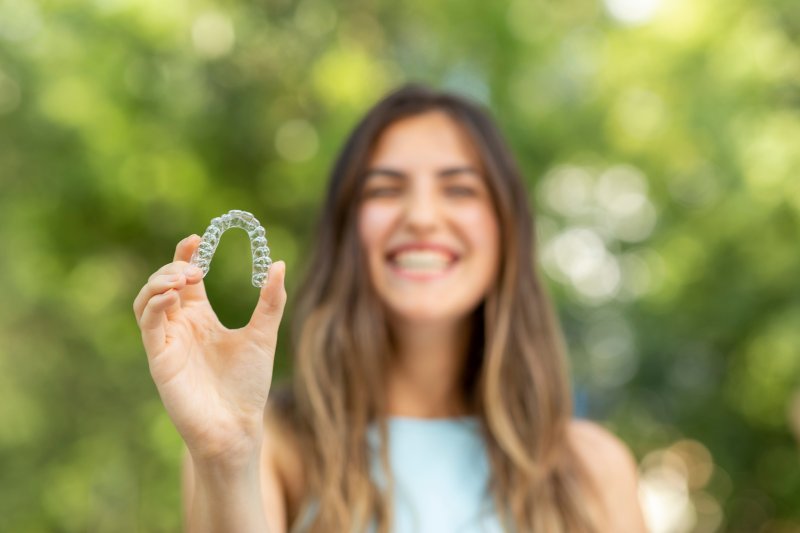 Invisalign is often recommended as a simpler, more convenient alternative to braces. There are no metal brackets and wires to worry about, the aligners don't get in the way of meals or oral hygiene, and the entire treatment is much less noticeable compared to traditional orthodontic treatments. However, you can still expect a few lifestyle changes during the treatment period, and knowing what to expect can help you make the necessary adjustments. Here are 5 examples of what to know before getting Invisalign.
1. You'll Be Wearing Your Aligners for 22 Hours Every Day
Even though Invisalign aligners are removable, you need to keep them in your mouth as much as possible for the treatment to work. That means you only take them out when you're cleaning them or when you're about to eat. The recommended time to wear Invisalign aligners is 22 hours every day; if you don't, then it could end up extending the treatment and may even compromise the entire process.
2. You May Lose Weight
Since you need to take your aligners out of your mouth to eat or drink anything besides water, you'll have to cut down on snacks if you want to meet the recommended 22 hours every day. As a result, you might lose some weight during the treatment. If you find that you tend to get hungry during the day, try having a protein smoothie with every meal, and make sure to eat as much as possible while you have the opportunity.
3. You'll Brush Your Teeth More Often
Plaque and food particles can contribute to bad breath and tooth decay, and they can even interfere with the process of moving your teeth; you obviously don't want them trapped in place by your aligners. As such, you need to brush your teeth after every meal and snack. You should always keep a toothbrush and travel-sized toothpaste with you so that you can clean your mouth as thoroughly as possible before you put your aligners back in.
4. You Can Only Drink Cold Water
The only thing you can drink while wearing your aligners is cold water. Hot beverages can potentially warp the plastic, and dark-colored drinks like teeth can cause discoloration. Beverages containing sugar and alcohol can potentially lead to plaque buildup, making it more difficult to keep your aligners as clean as possible.
5. Be Careful What You Put on Your Lips
If you use lipstick or colored lip gloss, you may want to give them up during your Invisalign treatment, as they can easily stick to the aligners and leave noticeable spots on your smile. It's okay to use lip balm in case you have chapped lips, but be aware of any waxy residue left on the aligners.
There are other things you'll need to know to help you take care of your aligners and your teeth during the Invisalign process. Your dentist will give you instructions to follow at the beginning of the treatment, and you can always call them if you have any questions.
About the Practice
Here at Kraft & Schrott Dental Associates, we take pride in providing comprehensive dental care to Boston patients and their loved ones. We can use Invisalign as an orthodontic solution for those who don't want to wear braces for crooked teeth. If you're interested in learning more about Invisalign, please visit our website or call (617) 227-4924.