Emergency Dentist – Boston, MA
Quality Care When You Need It Most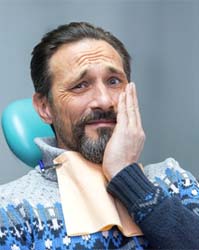 No matter how good a day you've been having, a dental emergency could still strike and leave your teeth damaged or in pain. Here at Kraft & Schrott Dental Associates, we're always happy to accept patients in need of urgent care, and we'll arrange for a same-day appointment whenever possible so that we can get started on fixing the issue. Don't waste any time! Call us as soon as you can in order to arrange an emergency appointment with one of our skilled dental specialists.
How to Handle Common Dental Emergencies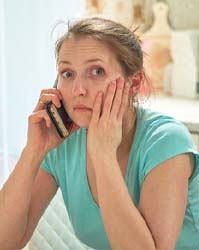 Some emergencies are the result of sudden accidents while others – such as those caused by infection and poor oral hygiene – occur slowly over time. We offer solutions for both kinds of issues; once we've examined you, we can figure out the most efficient treatment plan for restoring your smile.
Before you get to our office, though, you'll want to perform some basic first aid. The following tips only serve as temporary solutions, but they can help you manage your pain and limit the damage to your teeth until your appointment.
Toothaches
Not every toothache is necessarily a sign of a severe dental issue. Sometimes you simply need to remove a piece of food stuck between your teeth with dental floss. In other cases, though, you should visit our office to see if you need a root canal or another treatment to remove an infection. You can take OTC pain medications in the meantime if necessary.
Chipped/Broken Teeth
Gather the pieces if you can. An ice pack can reduce some of the pain and swelling around the broken tooth, and dental wax can cover any sharp edges. Protect the tooth until your appointment by avoiding hard foods. The treatment you can expect depends on how bad the damage is; an extraction will only be performed in very severe cases.
Knocked-Out Tooth
Immediate care is especially important if an adult tooth has been lost altogether; there's only a short amount of time to try and reattach it. Put the tooth back in its original place if you can. Be careful to only touch the crown and not the pointed root. If the tooth doesn't fit in its socket, preserve it in a glass of milk.
Lost Filling/Crown
You can try and protect the sensitive tooth by covering the exposed area with dental cement. You can also use said cement to reattach a crown until your visit.
How to Prevent Dental Emergencies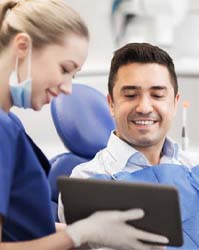 The Cost of Dental Emergencies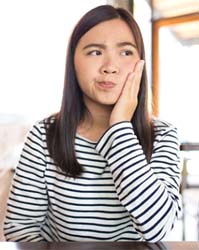 The kind of emergency you're suffering from, its severity, and the number of teeth affected can all cause the cost of emergency care to vary greatly. From fillings to root canals to extractions, there are all kinds of treatments you could receive, each one carrying a different price. We can give you a general idea of what you can expect to pay once we've performed an examination and fully understand your situation.
Emergency Dentistry FAQs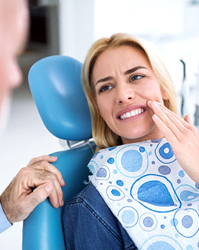 You should be well prepared to deal with a dental emergency long before one even occurs. After all, you don't want to lose valuable time panicking when you could be taking steps to salvage your smile. Call our office if you have any questions about the emergency care we provide or what you should do on your own in a worst-case scenario. The questions below are just a few examples of the concerns that patients have brought to us over the years.
Will I Ever Need to Call the Emergency Room for a Dental Emergency?
Common dental emergencies – such as broken or infected teeth – are best handled by a dentist. The doctors at a hospital emergency room probably won't have the training or tools required to repair dental damage or perform procedures such as root canal therapy that could be necessary to restore your health. They may be able to prescribe antibiotics, but that alone is unlikely to solve a severe oral health issue. You should only call an emergency room if your condition could actively put your life in danger; examples include unstoppable bleeding, severe cuts, a broken jaw, or any issue that makes it hard to breathe or swallow.
How Can I Tell If I Have a True Dental Emergency?
If a tooth is chipped but isn't causing you pain, it's typically not an emergency; you can wait until regular office hours to schedule an appointment. You can usually tell if you're suffering from a true emergency if you can answer "yes" to any of the following questions:
Is your mouth bleeding?
Are you suffering from severe, persistent pain?
Have any of your teeth come loose for any reason?
Did the damage occur after you were hit in the face?
Have you noticed any swelling in your mouth or around your face?
Are there any bulges or knots that have formed on your gums?
What's the Best Way to Prepare for a Dental Emergency?
Keep our practice's number close at hand so that you can call us immediately if something goes wrong. It's a good idea to create a dental first aid kit to help you get your situation under control as quickly as possible. Ibuprofen and other pain medications are a must, of course, but you should also include dental wax to protect broken teeth and cover sharp edges that might irritate the soft tissues in your mouth. Other necessities include dental floss, latex gloves, gauze, a small container to hold a lost tooth, and a cold compress.
Does a Knocked-Out Baby Tooth Count as an Emergency?
A baby tooth that was lost the normal way is nothing to worry about unless it falls out far earlier than it's supposed to. On the other hand, if the loss occurs due to an injury, your little one should be seen immediately. We normally won't try to replant the tooth, but we will perform an X-ray to see if any kind of damage has occurred underneath the gum line. It might be necessary for us to intervene to ensure that your little one's adult teeth are able to erupt safely in the future.