Dr. Sharon Schrott

Prosthodontist Cosmetic and Implant Dentistry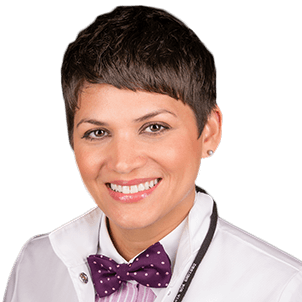 Dr. Schrott is a prosthodontist with a special interest in comprehensive, cosmetic and implant dentistry. Her training allows her to treat a wide variety of patient needs, ranging from simple fillings to dental implant therapy, aesthetic procedures and highly complicated full mouth reconstructions. Prosthodontics is the only dental specialty that includes training in cosmetic, restorative and implant dentistry.
Prosthodontics is one of the 9 American Dental Association recognized dental specializations. In order to become a prosthodontist, a dentist must complete at least 3 years of additional training after earning the initial Doctor of Dental Surgery/Medicine (DDS/DMD) degree. Less than 3% of dentists have prosthodontic specialization. This advanced training and experience makes a prosthodontist the ideal dental practitioner to perform tooth replacement because they are able to restore teeth to their natural beauty while ensuring your replacement teeth will fit and function properly, and that all materials are biologically compatible.
Dr. Sharon Schrott completed her masters degree in Prosthodontics at the Harvard School of Dental Medicine in Boston. Dr. Schrott spent two years in Europe where she continued her focus of cosmetic and implant dentistry.
Providing comprehensive treatment while fulfilling the highest standards of care is of great importance to her, and the time abroad has enabled Dr. Schrott to integrate the best of both the European and American philosophies.
Here are some of the associations Dr. Sharon is affiliated with: