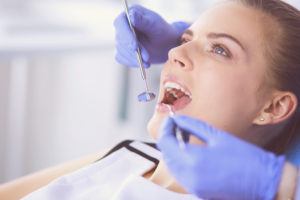 Brushing, flossing, and visiting the dentist regularly can help you keep a healthy smile, but the simple fact is most adults will experience a dental problem at some point in their lives. Tooth decay is one of the most common oral issues — and it is also one that is best to treat sooner rather than later. If you know you have a cavity or if you are currently experiencing a toothache, keep reading to learn about the most common restorative procedures and which one may be best for your smile.
What Happens to a Decaying Tooth?
Tooth decay gradually breaks down the enamel and can result in the complete loss of the tooth. It begins with a weak spot in the tooth that may eventually turn into a small hole, or cavity. Unless the decay is promptly treated, it will continue to eat through the layers of the tooth until it reaches the pulp, which is commonly called the "nerve" of the tooth. Infection at this stage may cause severe pain and can even spread to other parts of the body. In rare cases, an abscessed tooth can result in death of the nerve.
Common Restorative Procedures
The good news is that there are a number of ways to intervene to prevent serious damage from tooth decay. Your dentist may recommend one of the following restorative dentistry procedures to repair an injured or decaying tooth:
A filling: Initial stages of tooth decay can be repaired with a simple filling. It can even be tooth-colored to blend in beautifully with the surrounding tooth enamel.

A dental crown: When there is not enough room for a traditional filling, a dental crown may be recommended. It is a fixed restoration that fits tightly around the affected tooth. To place a dental crown, your dentist will remove all the infected tissue and fit the restoration on top.

A root canal: For more severe tooth decay, your dentist may recommend a root canal. During this procedure, all the infected tissue is removed from the interior of the tooth and replaced with a biocompatible material. A filling or crown is then placed on top of the treated tooth.

An extraction: As a last resort when a tooth cannot be saved, your dentist will recommend an extraction.
Don't Wait to Repair Your Smile
When it comes to tooth decay, the sooner you treat the problem, the better for your smile. So, if you are dealing with an aching or otherwise problematic tooth, do not wait to schedule an appointment with a trusted restorative dentist! Using modern tools, anesthesia, and a friendly approach, they can repair your smile while you relax comfortably in the dental chair.
Meet the Practice
Kraft & Schrott Dental Associates offers excellent dental care for families and individuals of all ages. To learn more about how to keep your smile healthy or to treat a damaged tooth, don't hesitate to get in touch by calling them at (617) 227-4924.