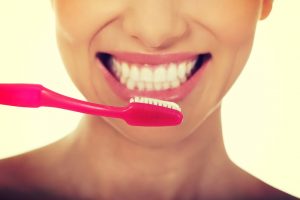 How well are you brushing your teeth? Cleaning around your teeth and gums is important but don't ignore your tongue, says your dentist in Boston. Bacteria can live and multiply here just as easily as it can throughout the rest of the mouth – in fact the tongue is the biggest reservoir for bacteria in the mouth and for many people, that means bad breath. Even though your tongue can't develop cavities, having a safe space for bacteria to hide out makes it easier for it to latch onto the tooth enamel and around the gums, increasing your risk of cavities and gum disease. Keep reading to learn more about why it's VIP to brush your tongue, and when it's time to see a dentist for chronic bad breath!
Why Bacteria Loves Your Tongue
Your tongue is covered in hundreds of little taste buds that help you enjoy the full flavors of what you eat and drink. These raised buds also create an irregular surface that allows for bacteria to collect, multiply, and put your oral health at risk. The result is a sticky biofilm that can't be removed by simply rinsing with a mouthwash, either. The only way to get rid of it for a clean tongue and healthy mouth is with your toothbrush or specific tongue cleaning tools.
How to Brush Your Tongue
After you have brushed your teeth dedicate a few more seconds to cleaning your tongue. It's no mystery how to do it: simply brush back and forth and from side to side before rinsing your mouth out with water.
Some people prefer to use a tongue scraper, which is a small tool that you use to manually scrape away the bacteria throughout the day. If you do choose to use one of these, make sure you dispose of it or clean a reusable scraper before each use.
When to Visit Your Dentist for Bad Breath
If you routinely brush your tongue but are still experiencing chronic bad breath, it may be time to visit your dentist for a checkup and cleaning. Halitosis can be treated. And if that foul odor is the result of gum disease, prompt therapy is necessary to prevent tooth loss and other serious consequences. Patients of all ages should have a checkup and cleaning at least every six months to prevent these and other issues!
Meet the Practice
Kraft & Schrott Dental Associates are the dentists Boston turns to for excellent general, restorative, periodontal and cosmetic dentistry services. To learn more about proper oral hygiene habits or to book a visit, we invite you to contact to office by calling 617-227-4924 today.