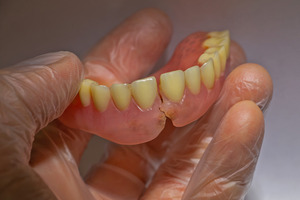 If your dentures break, it might not feel like an emergency at first; after all, prosthetic teeth don't hurt when they're damaged. But make no mistake, a broken denture is an urgent dental problem that needs to be addressed immediately. The following post explains why you should call your dentist right away if your dentures are damaged.
The Dangers of Broken Dentures
Continuing to wear dentures after they've broken can cause various problems for your mouth. The prosthetic might start to irritate your gums and cause sore spots to form; these issues will only grow more severe as time passes. As such, most dentists recommend that you stop wearing your dentures immediately if they've been broken.
Of course, not wearing dentures has consequences as well. Without a full set of teeth, there will be many kinds of foods that you won't be able to eat. A limited diet can lead to poor nutrition, which can have a profoundly negative impact on your overall health. Furthermore, a lack of teeth means you won't be able to speak clearly, which can lead to all kinds of problems in your daily life.
In short, breaking your dentures means you'll have to go without teeth until they're repaired or replaced. To continue enjoying the benefits of a complete smile, you need to get in touch with your dentist as soon as you can so that they can address the problem.
What Can Be Done If Your Dentures Break?
Your dentist will need to examine your dentures to see what kind of shape they're in before deciding on the next steps. In some cases, the issue will be simple enough that it can be fixed in a single visit. For example, sometimes your dentist might just need to reline your dentures so that they fit properly again.
For severe types of damage – such as a prosthetic that has broken completely in half – the only option may be to get entirely new dentures. Your dentist will give you an outline of the process and let you know when you can expect to receive your new teeth.
Can You Repair Dentures at Home?
There are denture repair kits available on the market, but most dentists do not recommend using them. Even with a kit, trying to fix dentures on your own could lead to further damage and might even cause problems for your oral health. It's always better to leave the repair process to the professionals.
Broken dentures should never be ignored. Keep your dentist's phone number with you at all times so that you can set up an appointment immediately if you ever find yourself dealing with a damaged denture.
About the Practice
At Kraft & Schrott Dental Associates, our specialists combine their decades of collective experience to bring Boston patients high-quality dental care. If you have a broken denture or another type of dental emergency, we'll make time to see you as soon as possible to restore your smile and your overall oral health. To schedule an appointment with us, visit our website or call (617) 227-4924.