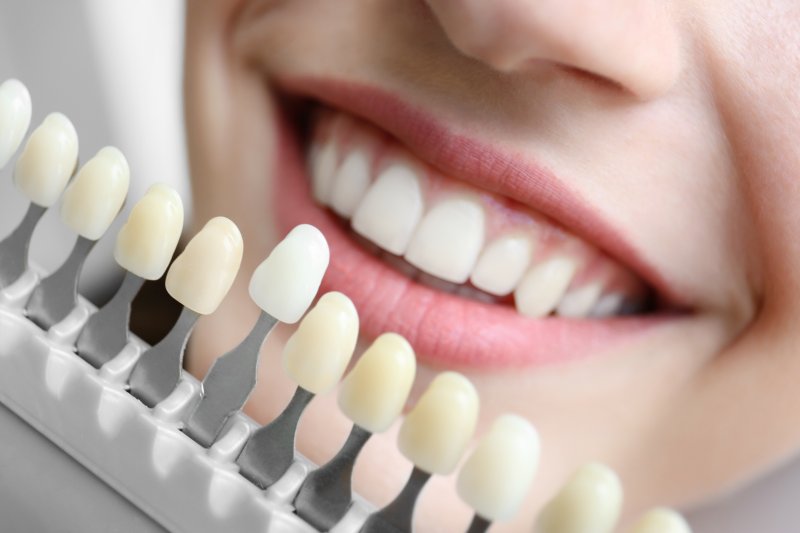 Many people don't like smiling simply because they're unhappy with the way their teeth look. Of course, what this means can vary from person to person, as there are many different kinds of cosmetic dental flaws. Below are 3 common examples of imperfections that you might have noticed in your own grin – as well as the treatments your dentist might suggest to fix them!
1. Stained or Discolored Teeth
Everyone wishes they could have a dazzling white smile, but unfortunately, it's all too easy for teeth to become stained by certain foods and beverages. Even if you brush every day, your toothbrush might not be able to get rid of the discoloration, especially if the cause lies under the surface of your enamel.
Fortunately, professional teeth whitening can remove a wide variety of dental stains. In many cases, one in-house treatment could brighten your smile by up to 8 shades. If you have a type of discoloration that doesn't respond to whitening, though, you can cover it up with a personalized veneer instead.
2. Irregularly Shaped or Uneven Teeth
Some of your teeth might look different than others. Sometimes it's simply due to genetics while in other cases it might be the result of repeated grinding wearing down the enamel. Not only can irregularly-shaped teeth be unattractive, but they might also contribute to bite problems that could lead to a TMJ disorder.
To improve the shape of your tooth, your dentist might suggest veneers or a metal-free crown. Veneers cover the front side of the tooth while crowns hide the entire dental structure. Both can be used to effectively correct the shape of the tooth.
3. Chipped or Cracked Teeth
Any time you have a chipped or cracked tooth, you should have a dentist examine it as soon as possible. A damaged tooth could potentially be at risk for infection. Of course, even if the situation isn't serious, a crack or chip could still draw the wrong kind of attention to your smile.
For this particular issue, your dentist might need to consider what's best for your oral health before thinking about the cosmetic aspect. Minor chips and cracks can sometimes be hidden with a veneer, but more extensive damage might call for a dental crown instead. The kind of treatment your dentist recommends will depend on your situation.
Naturally, these are just a few examples of problems you might have with the way your teeth look. Call your cosmetic dentist today to schedule a consultation and let them know if there's anything else that has been bothering you about your grin. They can go over the treatments they offer and explain what steps you can take to make the smile you've always wanted a reality.
About Kraft & Schrott Dental Associates
At Kraft & Schrott Dental Associates, multiple experts provide comprehensive dental care for Boston patients. If you're looking for ways to improve your smile, we can offer a wide range of options, including in-house whitening and customized veneers. To schedule a cosmetic consultation, visit our website or call (617) 227-4924.