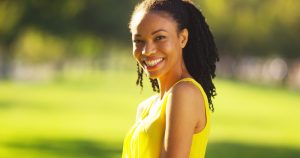 As your cosmetic dentist in Boston, we know our job isn't complete until you absolutely love the way your smile looks. Our team of experts offers a number of aesthetic treatments to help, and by far one of the most popular is dental veneers. They are thin coverings of dental porcelain that remake the size, shape, and overall appearance of your smile.
You probably know people who have veneers. It just takes a few visits to Kraft & Schrott Dental Associates to have your smile transformed with this popular cosmetic treatment — keep reading to learn more about how it works!
What Do Porcelain Veneers Treat?
Because porcelain veneers cover up the front side of the teeth that show when you smile, they can fix virtually any cosmetic issue. Chipped teeth? Yep. Bad stains that haven't improved with professional teeth whitening? Veneers fix those, too. Teeth that are decayed or those that are weak or worn, however, are usually better served by a dental crown or other restoration.
Some of the most common reasons people choose veneers include fixing the appearance of:
Chipped teeth

Short, stubby teeth

Slight gaps between teeth

Stained or discolored teeth

Teeth that appear to be off-centered or slightly misaligned

Oddly textured teeth
What's the Procedure for Veneers?
Dental veneers are completed over the course of a few visits to Kraft & Schrott Dental Associates. During an initial consultation, your dentist will walk you through the procedure and answer any questions you may have. Feel free to make a list of everything you want to ask — well-informed patients are always the happiest!
When we are ready to begin the procedure, we will start by preparing each tooth that will receive a veneer. Preparation involves removing a small portion of enamel to make room for each veneer to be placed on top. We will then take impressions, or a mold, of the prepared teeth. This information is sent to our master dental technician, where the veneers are crafted according to your specific treatment plan.
Temporary veneers cover up the teeth in the time between appointments. When you return to our office about two weeks later, we will remove the temporaries and check to make sure the new ones fit and look just like they should.
A special etching material encourages secure bonding between the veneer and your tooth. When everything is ready, your dentist will carefully place each veneer — and then give you the first look at your new beautiful smile!
Are You a Candidate for Dental Veneers?
Most adults who are interested in transforming the appearance of their imperfect front teeth are eligible for the veneer procedure. We will schedule an evaluation first to ensure your teeth and gums are in good health before beginning with any elective treatment. Gum disease or tooth decay should be treated first.
Interested in Veneers? Talk to Us Today!
If you would like to transform the appearance of your imperfect front teeth, please don't hesitate to get in touch with your trusted dentist in Boston. Request an appointment at Kraft & Schrott Dental Associates today!