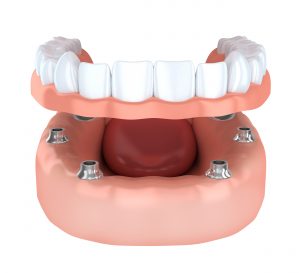 Are your teeth failing you? A smile that is on its last leg may have several decayed, broken, or weak and worn down teeth. But, even in the worst cases, all hope may not be lost thanks to advances in implant dentistry. Many patients are still eligible for smile reconstruction with dental implants in Boston. Keep reading to learn more about what it takes to be a candidate for this option — and why it's great news if you are.
Dental Implant Procedures: Highly Successful
One of the most promising thing about dental implants for patients who have lost multiple teeth is that they have a remarkably high success rate. In fact, most estimates mark the success rate of dental implant procedures between 95% and 98%.
This tooth replacement option is made up of tiny titanium posts that replace the roots of the missing teeth. Titanium promotes the growth of bone tissue, helping the jaw bone grow together with the posts — becoming one with your mouth and providing a sturdy foundation for the bridge, crown, or denture that is affixed on top.
Patients who have been missing teeth for a while or who have had severe periodontal (gum) disease may need to have a preliminary bone graft performed before the dental implants can be placed. This procedure increases the volume of the jaw bone to create the right environment for dental implants.
All-on-4/Teeth In a Day Is an Option
Even patients who have been told they are not eligible for traditional dental implants due to significant bone loss may still have an option with All-on-4 dental implants. This method provides a full, fixed denture in the upper or lower jaw — supported on as few as 4 dental implants.
All-on-4 works using the strategic placement of longer and angled dental implant posts which draws maximum support from the jaw bone. They are ready to be restored with a fully-functioning denture within the same day, which is why this option is often called Teeth In a Day. This method offers a wonderful alternative for patients who would not otherwise be able to benefit from dental implants.
Increasing the Success of Dental Implants
There are a few things you can do in the lead up to and right after your dental implant procedure to help encourage success so you can enjoy a stable, natural-looking tooth replacement for years to come. Some of these steps include:
Avoid smoking or using tobacco: Nicotine restricts blood flow to the jaw, slowing healing and reducing your body's ability to fight infection.

Maintain a balanced, nutritious diet: Eating right will promote better health and help you fully heal after your dental implant procedure.

Visit your dentist regularly: After your dental implants have been placed, your dentist will recommend routine visits. Make sure you attend these appointments.
To conclude, you don't have to lose hope if you have severely damaged teeth. Dental implants are likely still an option for your smile!
Meet the Practice
Kraft & Schrott Dental Associates is a team of passionate dentists in Boston offering high-quality general, restorative, cosmetic and periodontal services. If you are dealing with failing teeth and would like to find out whether or not dental implants are an option for your smile, do not hesitate to contact the office at 617-977-5266.