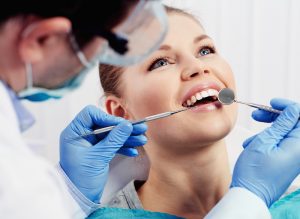 Most people know they should visit the dentist twice annually, but they file it away along with recommendations like getting "8 hours of sleep" or "half an hour of cardiovascular exercise" daily — aspirational goals that don't usually happen. But when it comes to protecting you from a host of health issues, including oral cancer, routine dental care is absolutely crucial as you get older. Keep reading to learn more about how from your dentist in Boston.
Oral Cancer Risk
Oral cancer is on the rise in the United States, with estimates saying that one person dies per hour due to cancer of the lips, cheeks, tongue, hard or soft palate, or throat (collectively known as oral cancer). This disease is not only limited to senior citizens or people who smoke (though these are significant risk factors, too). With the quick rise in cases of the human papillomavirus (HPV), oral cancer has increased as well. This means younger patients, especially men, are more at risk of developing oral cancer than ever.
Early Detection Is Crucial
The high death rate of oral cancer is due to the fact that the disease is often not caught until it has advanced to the later stages. Therefore, a significant factor in the successful treatment of oral cancer is how early it is detected. With a routine oral cancer exam performed at least once a year, your dentist can evaluate your mouth and surrounding structures for evidence or precancerous or cancerous tissue.
An oral cancer exam is a simple screening that can be completed within minutes at the end of a routine checkup and cleaning.
During this screening, your dentist will be on the lookout for:
A lump or bump in the hard/soft oral tissue

A lesion that does not heal after two weeks or more

Rough patches or areas of discoloration

A change in the tone of voice

Asymmetry of the face or mouth

Other irregularities
If anything out of the norm is located during this screening, your dentist can talk you through next-steps to ensure that you get the follow-up treatment you need.
So, there you have it — one more reason not to skip your 6-month checkups and cleanings! No matter your age, early detection of oral cancer can literally save your life as you get older. When you schedule your next preventive dental appointment, be sure to ask for an oral cancer screening, too.
Meet the Practice
Kraft & Schrott Dental Associates offers comprehensive dental care with a strong foundation on prevention. Your general, restorative, and cosmetic dentist in Boston recommends adults of all ages receive an oral cancer screening at least once-annually. To learn more about this examination or to schedule an appointment for your own screening, you are invited to contact the office at 617-227-4924.