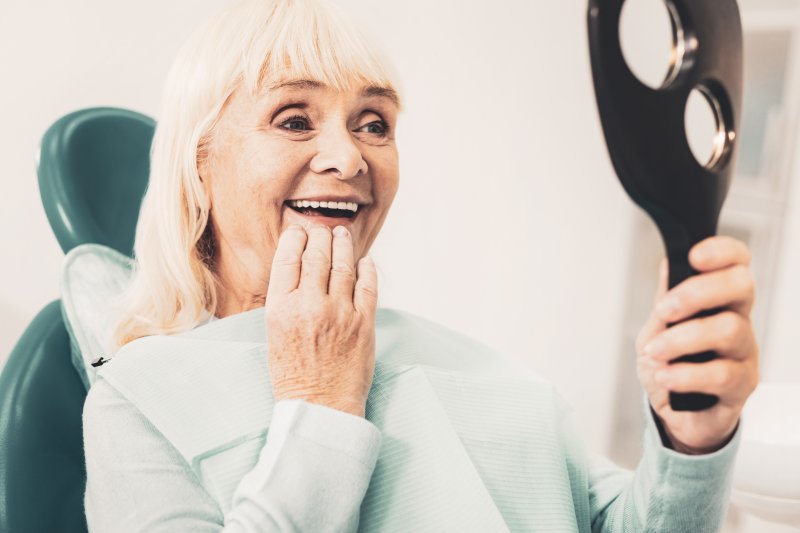 Dentures can be a massive game-changer for people who are missing a lot of their teeth. They can restore confidence that you may not have had for a very long time, and can give you the opportunity to make the best impression possible on those around you.
However, it's common for people with dentures to have certain problems with eating, which can affect the quality of nutrition that they get. If you want to know how dentures could affect your diet, here's some information that may be helpful to you.
What Can I Eat With Traditional Dentures?
Traditional dentures are affixed to the mouth by suction between the prosthetic and the gums. This provides enough security to keep the dentures in the mouth, and even to effectively grind up certain foods. In fact, dentures can be quite good at grinding up vegetables and other such foods.
However, tearing food with your front teeth is considerably harder, simply because of the way that dentures are designed to fit into the mouth. Biting down with the front teeth can cause the back teeth to pop off and the dentures to become dislodged.
How Does This Affect Nutrition?
Recently, a study was conducted by the Regenstrief Institute and the Indiana University School of Dentistry on the relationship between dentures and nutrition. They compared the dental records of over 10,000 patients with laboratory data meant to indicate malnutrition and tracked the changes in these indicators over a period of two years.
It was found that people with dentures saw a marked decline in the quality of their nutrition over this two-year period, one that wasn't found in those without prosthetics. This likely has to do with the difficulties that come with eating with dentures specifically.
How to Deal With this Issue
In light of this new data, some dentists recommend that denture patients seek out nutritional advisors to help ensure that they're getting the nutrients they need.
Implant dentures can also be a useful option for people worried about being able to eat properly. They have the same coverage as regular dentures but are surgically secured to the jawbone, meaning that they offer a much stronger bite. You might want to ask your dentist whether this option could help you.
About Our Practice
At Kraft & Schrott Dental Associates, we're proud to be a Boston-based practice that embodies the spirit of learning that runs throughout this city. We believe in offering all of our patients the greatest dental care possible, which is why all five of the experts on our dental team work hard to stay up-to-date on the latest techniques in oral medicine.
If you have any questions about dentures, we can be reached at our website or by phone at (617) 227-4924.