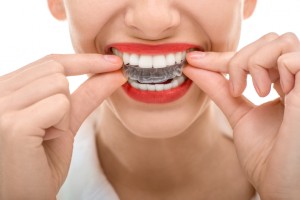 Invisalign is a popular orthodontic treatment option that allows you to use nearly invisible plastic aligner trays to move your teeth into their correct position. This method of treatment doesn't require the unsightly appearance of brackets and wires like that of traditional braces, but is just as effective. In addition to a less noticeable treatment option, Invisalign also requires a shorter treatment time and fewer visits to the dentist when compared to treatment using traditional braces. If you're considering using the invisible braces, we have everything you need to know about Invisalign cost and treatment.

What is Invisalign?
Invisalign treatment involves the use of custom-made clear aligner trays that gradually move the teeth into their correct alignment. Every one or two weeks you will switch to a new set of trays that will move your teeth in small and safe steps. The average treatment time is 1 year and brief office visits are typically necessary once every 6 to 8 weeks. Unlike traditional braces, Invisalign trays are removable but still need to be worn for 20-22 hours per day. You can take them out for eating and cleaning, so there are no food restrictions and oral hygiene is easier.
Invisalign is the most predictable and discreet way to move your teeth into a healthier and straighter smile. While the cost of the treatment can vary, we've broken down an estimate of what you can expect when choosing our office for Invisalign treatment.
What Does Invisalign Cost?
On average, the cost of Invisalign services range from $3500 – $8000, depending on the severity of alignment issues. For simple cases that require minimal movement, often only 5 aligner trays are needed, which will cost approximately $3500. For those with more complex alignment issues, the price can increase to as high as $8000 to fix severe crowding, severe rotation, correcting a bite, and expanding an arch and bite interferences. Generally, the average patient can expect to pay $5000 – $6000 for a treatment lasting an average length of 12- 18 months.
Invisalign at our office is a comprehensive treatment, which includes all of your visits, aligners and even your first set of retainers. We know it is a big commitment, so we offer free Invisalign consultations to answer your questions. In addition, we offer flexible payment options and accept numerous dental insurances.
At Kraft & Schrott Dental Associates, we are committed to helping you achieve a beautiful and healthy smile. If you are interested in the clear braces, contact our office today at (617) 758-8058 to set up a consultation where you can see the aligners and learn what Invisalign can do for you.