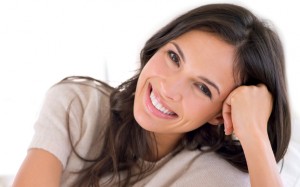 When compared with other in-office whitening products available, we found significantly more consistent and longer lasting results with the Kör teeth whitening system. Stains caused by aging tend to be resistant past a certain point of whitening with other products, but do not pose a threat for Kör whitening. Even intrinsic stains such as tetracycline stains can effectively be reduced substantially or fully removed with the KöR whitening technology. If you are considering teeth whitening or have had unfavorable results before, read on to find out how Kör works and the difference it can make for your smile!

The Kör Whitening Experience
The Kör whitening procedure varies from patient to patient based on individual levels of staining, but for most patients, the process includes:
Kör impressions – In order to offer the most effective whitening results, our trays are made to keep saliva from mixing with the whitening gel. This means the first step is to take impressions of your teeth that are used to make a custom application tray.
Kör-Seal tray – A custom tray is made to maximize the amount of time our professional-grade whitening gel is active. Traditional whitening tray application systems offer only about half an hour of active treatment. With the patented Kör-Seal trays our gel effectively whitens for up to 10 hours.
At-Home whitening – Once application trays are prepared, patients use them in combination with whitening gel at-home for a predetermined amount of time daily. Treatment is extremely versatile allowing patients to use the system at night, during the day, or for longer durations to optimize effectiveness.
In-Office whitening – In most cases, a final in-office whitening session follows the at-home teeth whitening. This in-office whitening can be completed over your lunch hour, and in combination with the at-home treatments, brightens teeth up to 8 shades.
For patients in need of deeper bleaching, the Kör system also has an in-office "jumpstart" procedure that increases a tooth's receptivity to the whitening system.
The Kör Whitening Difference
The most common complaints about teeth whitening are tooth sensitivity, the inability to remove tetracycline and other difficult stains, and lack of versatility in treating individual smiles. Kör whitening eliminates all of these concerns making teeth whitening more comfortable and effective than ever before.
Less sensitivity – KöR whitening prevents tooth sensitivity rather than just treating symptoms by plugging the dentinal tubules (the openings in the dentin layer of teeth). When fluid moves over or through the tubules, pain or sensitivity are reported. By preventing whitening gel from entering these tubules, KöR stops tooth sensitivity in its tracks.
Reduces or removes even intrinsic stains – Unlike other whitening options, KöR is able to remove even stains caused by tetracycline and aging that were previously believed to be unremovable. This is due in large part to the increased amount of time the whitening solution is active, but the KöR whitening gel formula also increases the production of OH molecules, the most powerful oxidizing stain fighters, from peroxide's O2H2.
Versatile treatment options – KöR offers four levels of whitening that can be further customized to meet the whitening needs of each patient.
Find Out More from Your Boston Teeth Whitening Dentist at Kraft & Schrott Dental Associates.
If you're ready to renew your smile with KöR whitening, contact Kraft & Schrott Dental Associates today. We're happy to help our patients find the right teeth whitening solution.