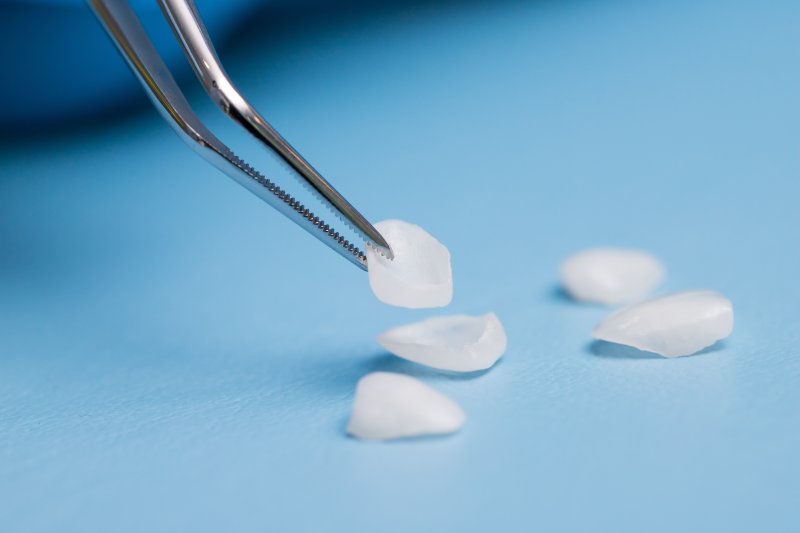 How long can you expect a new smile to last? Porcelain veneers tend to have a lifespan around 10 to 20 years depending on the quality of care they receive, but at some point, they will have to be replaced for one reason or another. If you've become accustomed to having a brighter, more attractive smile thanks to veneers, then you'll definitely want to have them replaced as soon as possible so that you can continue to enjoy the benefits of cosmetic dentistry. Here are 4 warning signs that your current veneers won't last much longer.
1. The Veneers are Becoming Darker
The cement used to hold veneers in place will start to darken over time. Since porcelain veneers are semi-translucent, the darkening will be visible. There's no way to reverse this darkening, so if you want to maintain a bright white smile, the cement will have to be removed along with the veneers that it's holding in place. Then a fresh layer of cement is applied so that you can receive new veneers.
2. The Veneers Have Become Irreversibly Stained
Veneers do not stain as easily as natural teeth – the key phrase being "as easily." Eventually, dark-colored beverages and foods such as coffee and blueberries can leave a permanent mark on your restorations. Since porcelain cannot be bleached or whitened the way enamel can, the only way to get rid of a stain that doesn't respond to brushing is to replace the veneer entirely.
3. The Veneers are Starting to Develop Rough Edges
Porcelain is very durable, but even it can become worn down from the daily rigors of biting and chewing. You'll know that your veneers are starting to show their age when the edges start to feel rough and cracks start to form. They may even start to lose their overall shape. It's best to have them replaced as soon as possible once the damage becomes noticeable.
4. You Notice Signs That the Veneers Were Improperly Applied or Fitted
Sometimes veneer replacements have to be performed sooner than you'd like due to the restoration not being placed properly in the first place. In some cases, they might fall off because they weren't attached to the teeth securely enough. In others, the veneers themselves might not have been designed to fit correctly, which can cause discomfort. Get in touch with your dentist immediately so that the issue can be addressed.
Once you've gotten used to the new and improved smile created by your veneers, you'll definitely want to protect it, and that means keeping an eye out for the above warning signs. That way, you can set up an appointment for veneer replacement as quickly as possible when you need to.
About the Author
Dr. Sharon Schrott is a prosthodontist who focuses on comprehensive, cosmetic, and implant dentistry. She has been trained to use a wide variety of dental restorations to repair and improve smiles. Naturally, that includes fully customized veneers that can hide a wide variety of cosmetic flaws. To schedule a cosmetic consultation at her Boston practice, Kraft & Schrott Dental Associates, visit her website or call (617) 227-4924.