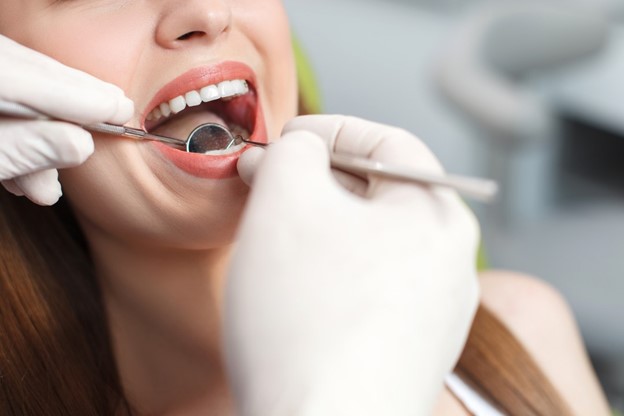 Approximately 54,000 new cases of oral cancer are expected to be diagnosed in the US this year, with an unfortunate long-term prognosis for about 40% of those affected. Despite advancements in healthcare, oral cancer remains a serious issue with no definitive cure, and late detection can complicate treatment. However, knowing more about this condition can help you prevent or treat it early on. Keep reading to learn about important risk factors associated with oral cancer, warning signs, and tips to minimize your risk of developing it.
Common Oral Cancer Risk Factors
Every part of your mouth, including your lips, teeth, gums, tongue, cheeks, throat, and tonsils, is susceptible to oral cancer. The following are some of the most prevalent risk factors associated with the disease:
Smoking or using other tobacco products and excessive alcohol consumption
Other types of head or neck cancer
HPV (Human Papillomavirus)
Exposure to sun or radiation
Weakened immune system
Chronic bad oral hygiene
Old age
5 Tips for Minimizing Your Risk of Oral Cancer
Surprisingly, oral cancer is one of the most preventable forms of cancer, and there are several proactive measures you can take to reduce your risk of developing it. Here are some of them:
Don't smoke – Smoking has been linked to a wide range of health issues that can affect both your oral health and overall well-being.
Maintain optimal oral health – Brush and floss your teeth regularly, use an antibacterial mouthwash, and schedule regular dental checkups that include oral cancer screenings to ensure that there are no signs of the disease.
Lead a healthy lifestyle – Boost your immune system by eating a healthy, vitamin- and nutrient-rich diet, exercising regularly, and avoiding excessive sugar and starch consumption.
Drink plenty of water – Water is the best drink for your oral health and promotes saliva flow, which is crucial for oral defense.
Protect your mouth – Apply SPF lip balm when outdoors and consider wearing a hat to shield your face from harmful sunlight.
7 Common Warning Signs to Watch For
If you observe any of these cautionary indications, don't hesitate to contact your dentist. Although they may appear insignificant at first, any of these signs may indicate a more serious underlying issue:
Bleeding from unusual growths that are easily irritated
Red, pink, black, or white sores in the mouth or tonsils
Difficulty speaking, biting, chewing, or swallowing
Swelling in your throat, neck, or mouth
Chronic halitosis
Loosened teeth
Cheek lumps
During this Oral Cancer Awareness Month, it's crucial not to hesitate or doubt any warning signs. Your smile is an essential part of your overall well-being, and it's critical to ensure that it doesn't suffer unknowingly from oral cancer.
About the Practice
Kraft & Schrott Dental Associates is a trusted dental practice serving the Boston community, providing a range of dental services under the expert leadership of Dr. Sharon Schrott, Dr. Alfred L. Kraft, Dr. Stephanie R. Slate, and Dr. Luri Lee. With their commitment to providing personalized care, they strive to deliver exceptional dental treatment to all their patients. From routine checkups to oral cancer examinations, they are here to help you keep your mouth healthy. If you have any questions about oral cancer or want to schedule a visit, visit Kraft & Schrott Dental Associates' website or call (617) 227-4924.