Dentures – Boston, MA
Effective Replacements for Arches of Teeth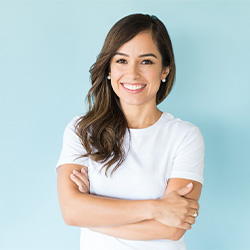 If you lack any teeth, you know that situation is tricky. Tooth loss, after all, causes unsightly smile gaps, makes it hard to eat, and leads to oral health problems. However, you don't have to live with an incomplete grin. You can always restore your smile with high-quality dentures in Boston! As provided by Kraft & Schrott Dental Associates, these prosthetics "fill in" for missing teeth well. If you'd like to learn more about them, keep reading or book a visit to our practice.
Who is a Good Candidate for Dentures?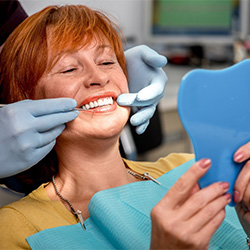 As you might expect, the best denture candidates suffer from missing teeth effects. These include difficulty eating, poor speaking ability, feeling too embarrassed to smile, and more.
That said, you'll need to consult our dentists to confirm your candidacy. Doing so lets our team review your health and see if dentures could meet your needs. If a denture procedure would help, our office will draft a custom treatment plan that ensures great results.
Of course, there's always a chance you aren't a good treatment candidate. Perhaps, for instance, you don't lack all of the teeth along an arch. If so, our office may recommend an alternative to dentures.
Types of Dentures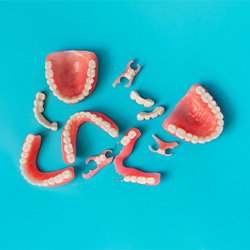 Based on the consultation, our team will also decide the type of denture that's best for you. More than one kind exists, so we must examine your qualifying factors. Once we've done so, we'll suggest one of three possible dentures:
Partial Dentures
Per their name, partial dentures only replace a few teeth. They stay secure by clasping onto your surrounding pearly whites.
A partial denture is generally made of a gum-colored base and artificial teeth. Due to using acrylic resin, it'll usually blend with the rest of your smile.
Full Dentures
In contrast to partials, full dentures replace all the teeth on an arch. As a result, they don't rely on nearby chompers to steady themselves. Instead, these full models stay in place with natural suction.
Regarding bases, full and partial dentures don't differ much. Both, you see, make use of acrylic, gum-colored resin. Still, this denture does stand out by fitting snugly over the gums.
Implant Dentures
If you want a more permanent and stable option, implant dentures are ideal. These kinds rely on dental implants – restorations that fuse with your jaw.
Of course, implant dentures' implants give them various unique perks. One, for example, is that treatment prevents (and reverses) jawbone erosion. On the other hand, implants allow implant dentures to restore more of your chewing ability.
The Benefits of Dentures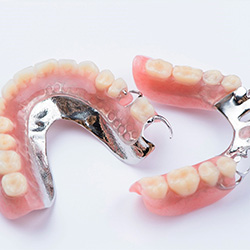 You'll receive various benefits if you get dental implants in Boston. These will include the following:
Natural-looking Results– Due to the material and tools involved, today's dentures are very lifelike. As such, you can trust your results will look gorgeous.
Healthier Diet – Remember, some dentures do a lot to restore your bite force. That effect, in turn, expands your dietary choices and improves your nutritional health.
More Confidence – Dentures can give you a more confident attitude. From there, you'll feel less anxious in social settings.
A Moderate Lifespan – Since dentures last over a decade with proper care, they're a cost-effective and trusted dental solution.