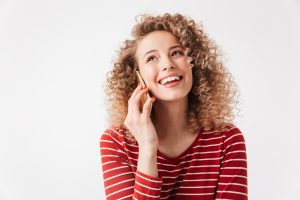 Professional teeth whitening is considered a great non-invasive way to enhance the appearance of your smile without spending a lot of time or money in the process. It's usually a straightforward treatment — but you may still want to ask some questions to decide whether or not it's right for you. Below, your Boston dentist shares four common questions and answers for what you need to know about professional teeth whitening.
How Long Will My Results Last?
Most professional whitening treatments can break through stains and leave teeth up to 8 shades brighter. And, if you are like many people, the results could last you for quite a while. It just comes down to you and how well you care for your smile after the treatment is completed. Maintaining excellent dental hygiene practices and staying away from the items that cause teeth to discolor (like tobacco, black coffee, and other highly pigmented foods and beverages) can help you enjoy your white smile for a year or more.
Is Teeth Whitening Safe for My Teeth?
Professional teeth whitening has been approved by the American Dental Association as being safe for use. Your dentist can make adjustments as needed based on your risk of developing tooth sensitivity and other factors. So professional teeth whitening is not only safe — it is often safer than an over-the-counter treatment that you could pick up at the grocery store or pharmacy.
Will Teeth Whitening Harm Existing Dental Work?
Teeth whitening does not pose a threat to fillings, bridges, crowns, and other dental work. However, it will also not whiten these restorations. Teeth whitening is only effective on natural tooth enamel — so it could be perfect for brightening up teeth surrounding a crown or bridge that is whiter than the rest of the smile.
Is Bleaching Safe for All Ages?
Older teens and adults alike can safely undergo teeth whitening. It is especially popular for younger patients who have just finished orthodontic treatment. The treatment is not recommended for young children, though, as their tooth enamel is still developing and therefore at a greater risk of sensitivity.
To conclude, teeth whitening is considered a great non-invasive way invest in your smile — visit your cosmetic dentist in Boston with this information in mind to make the most informed decision about whether or not it is right for you!
Meet the Practice
Kraft & Schrott Dental Associates is made up of a team of experienced dentists and specialists offering services ranging from six month checkups and cleanings to teeth whitening, Invisalign, and much more. To learn more about our teeth whitening options or any other cosmetic dentistry services, you are invited to contact the office at (617) 227-4924.