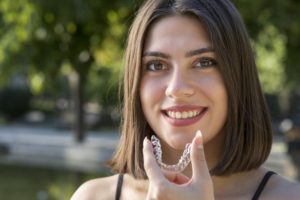 Invisalign treatment is certainly convenient for people who don't want to worry about metal brackets and wires while they're eating or brushing their teeth; you can simply remove the aligners so that they don't get in the way. However, it's important to stick to a routine when using Invisalign. If the aligners are used improperly, or if you fail to take certain precautions, you could end up making the treatment take longer than it really should. Keep your Invisalign do's and don'ts in mind at all times to stay on the right track towards a better smile. Here are 3 mistakes that you need to avoid at all costs!
1. Forgetting to Put the Aligners Back In
You need to wear your Invisalign aligners for a minimum of 20 to 22 hours. Obviously, that means you shouldn't be taking them out of your mouth when it isn't necessary. By that same token, though, you also need to remember to put them back in your mouth after a meal or once you're done brushing your teeth. If you end up leaving them out of your mouth for too long, it can severely disrupt the entire process. You can set up a reminder for yourself on your phone so that you don't forget to put your aligners back in.
2. Not Cleaning Them
Bacteria and food particles can accumulate on your aligners over time. If they're not removed, they can cause your aligners to emit an unpleasant owner and could also increase the risk of tooth decay and gum disease. Make sure that you always clean your aligners before putting them back inside your mouth. You can use a soft toothbrush as well as non-abrasive toothpaste. You should also brush and floss your teeth as well in order to reduce the risk of harmful bacteria becoming trapped underneath your aligners.
3. Eating or Drinking While Wearing the Aligners
You can only drink water while Invisalign aligners are in your mouth. For everything else, you'll need to remove them first. Trying to chew with your aligners could very easily cause them to crack whereas drinking other kinds of beverages might discolor them, causing them to stand out on your teeth. Also, hot temperatures have the potential to distort the aligners, causing them to no longer fit properly; to that end, make sure that you only ever drink water that is at room temperature while wearing them.
Your dentist can give you more tips on what to avoid while wearing Invisalign. If you follow these guidelines and avoid risky behaviors, you should be able to complete the treatment without any major complications so that you can enjoy a new and improved smile all the sooner.
About the Practice
At Kraft & Schrott Dental Associates, we make it a point to offer comprehensive dental care to patients in the Boston area. That includes Invisalign for straightening crooked teeth and correcting uneven bites without having to use metal braces. To schedule a consultation to learn more about Invisalign, visit our website or call (617) 227-4924.