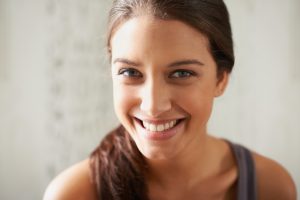 From whitestrips to toothpastes and mouthwashes, there are a number of options available over-the-counter for teeth whitening — and the same is true about whitening treatments you can get from your dentist. At Kraft & Schrott, we have considered a number of the many professional-grade whitening kits available, and we prefer the KӧR Whitening system the most. It's the safest, most effective treatment available, and it's one that can break through even the most stubborn stains. Keep reading to learn why your trusted dentist prefers this particular option for teeth whitening in Boston!
How KӧR Teeth Whitening Works
Patients undergoing the KӧR Whitening system benefit from treatment plans built to meet their specific needs. The particulars of your treatment will depend on the severity of your dental discoloration, and may include…
An in-office "jumpstart," which is reserved for patients with severe discoloration. It is a preparatory treatment that increases the susceptibility of tooth enamel to whitening.

KӧR impressions to create your custom-fitted trays.

At-home whitening with the KӧR-Seal trays. You will use the trays with the powerful gel for the recommended period of time at night, in the morning, or even during the daytime.

A follow-up in-office whitening treatment to complete the whitening that you have performed at home.
What Makes KӧR Different
One of the most significant problems with other options in professional teeth whitening is that they can cause real tooth sensitivity — either that or they are unable to break through the toughest stains, like those caused by tetracycline that have reached below the surface of the tooth enamel. The unique KӧR solution solves both problems.
KӧR Whitening actually desensitizes teeth during whitening by plugging the tubules, or openings in the teeth, to prevent the gel from entering and causing discomfort. You can reduce sensitivity even more by brushing with an anti-sensitivity toothpaste before and during your teeth whitening treatment.
In addition to decreasing sensitivity for a more comfortable whitening process overall, the KöR treatment is specially formulated to reach stains that live beneath the surface of the teeth for maximum whitening. The KöR formula increases the production of OH molecules, the most powerful oxidizing stain fighters. The combination leads to a smile that's up to 8 shades brighter in most cases!
Maintaining Your Beautiful Results
After your whitening treatment is complete and you are smiling brighter than ever, keep these tips in mind to enjoy your beautiful results for as long as possible.
Drink dark beverages through a straw to avoid contact with your tooth enamel.

Rinse with water after consuming dark foods or beverages.

Maintain good dental hygiene, brushing, flossing, and visiting your dentist regularly.

Drink water throughout the day to wash away bacteria and pigments.

Get plenty of calcium to strengthen your tooth enamel against stains.

Brush your teeth

before

drinking wine to remove plaque that pigments cling onto.
Request an Appointment Today!
Are you interested in brightening your teeth? There's never been a better time to choose professional teeth whitening than right before summer. Please contact our office to schedule an appointment today!