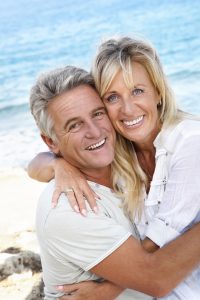 A dental crown is a tooth restoration that your dentist may recommend for either a restorative or cosmetic purpose. For example, if you have a cracked tooth a crown may be able to hold that tooth together and avoid the crack from becoming bigger.
Similarly, if a tooth fractures and part of it chips away that tooth may be saved and restored with a crown.
For cosmetic purposes, a crown could be the ideal solution if a tooth is misshaped or permanently discolored. For dental crowns in Boston, patients turn to the skilled dental professionals at Kraft & Schrott Dental Associates.
Dental Crowns and Your Smile
At Kraft & Schrott Dental Associates, we use all-ceramic (E-max) crowns. All-ceramic crowns have an appealing translucent color that provides for a natural color match with your own teeth. It has no metal alloy base and thus does not affect the aesthetics around your gum line.
An important esthetic component of a natural smile is that your gum tissue blends in naturally with your new crowns.
Sometimes, a routine procedure called a "Crown Lengthening" may be necessary to accomplish a symmetrical gum line. Our periodontist Dr. Alexander Schrott is a specialist on plastic periodontal procedures and can provide these routine services in our Boston office so you will have a smile that is in harmony with your lips, face and adjacent teeth.
Receiving Dental Crowns in Boston
Usually, our dentists require two appointments to complete the dental crown process. At the initial appointment, your dentist in Boston will carefully examine the tooth or teeth in question and will obtain digital x-rays to ensure that the tooth is strong enough for a crown.
Then the tooth is prepared in order to make room for the crown to fit comfortably between the adjacent teeth. If the tooth proves to be weakened, severely damaged or decayed, then we may need to build up the tooth in order to receive the crown.
At the conclusion of this appointment, we will take an impression of the tooth that our dental lab will use to create a dental crown that is exactly the right size, shape and color for your smile.
The dentist will then secure a temporary crown over the prepared tooth.
In about two weeks, one of our skilled dental lab technicians will hand-fabricate your permanent dental crown.
At the follow-up appointment, one of our experienced restorative dentists at Kraft & Schrott Dental Associates will remove the temporary and permanently cement your permanent crown over the prepared tooth.
With good oral hygiene and regular dental check-ups your dental crowns can last a very long time.
Call Our Office Today
To find out more about dental crowns in Boston, schedule a consultation at Kraft & Schrott Dental Associates.